Papilocare® is a novel and effective line of treatment against lesions caused by the human papillomavirus (HPV) that includes three different products, Papilocare® vaginal gel, Papilocare® external genital gel and Papilocare® Immunocaps, all of them made from natural ingredients, which improves their safety and tolerability profile. The products have also been developed with the utmost scientific rigour and in the constant search for new evidence to corroborate their efficacy and to continue innovating and improving all their formulations. Papilocare® vaginal gel is backed by an extensive clinical development plan carried out in Spain and Italy, where its efficacy and effectiveness have been tested in more than 700 patients affected by HPV.
Complete and evolving clinical development plan
PILOT, OBSERVATIONAL, OPEN-LABEL, PROSPECTIVE, NON-COMPARATIVE STUDY.
This first pilot study evaluated the effect of Papilocare® vaginal gel on the cervicovaginal mucosa and vaginal microbiota composition of HPV-positive women without cervical lesions. After only 21 days of treatment, an improvement in mucosal epithelialization and a significant reduction in microbiota diversity were observed, with a clear increase in lactobacilli, including L. crispatus, and a decrease in harmful bacteria such as G. vaginalis. All of this suggests a clear improvement in the composition of the vaginal microbiota, which is critical for HPV clearance. The results of the Epicervix study have recently been published in the Academic Journal of Health Sciences  of the Society of Balearic Medicine.
Changes in the vaginal microbiota
Changes in the vaginal microbiota
Changes in the vaginal microbiota​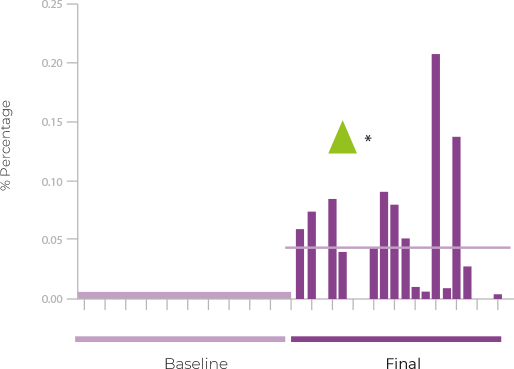 Changes in the vaginal microbiota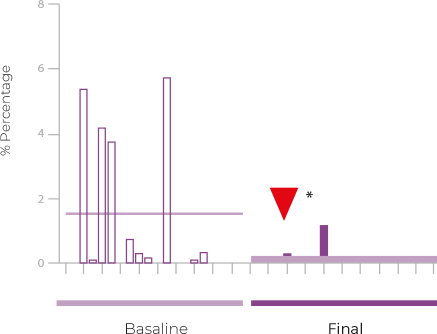 Multicentre, open-label, randomised, parallel-group, controlled
WITH STANDARD PRACTICE CLINICAL TRIAL
NCT 04002154
The Paloma clinical trial evaluated the efficacy of Papilocare® vaginal gel in the repair of cervical mucosa in patients aged 30-65 years with a positive HPV result and abnormal cytology of ASCUS or LSIL with concordant colposcopy. Patients were randomised between the Papilocare® vaginal gel treatment group and the control group that followed the usual "wait and see" strategy. The results have been published recently in the American scientific journal Journal of Lower Genital Tract Diseases
Cytologic normalisation with concordant colposcopy at 3 and 6 months vs control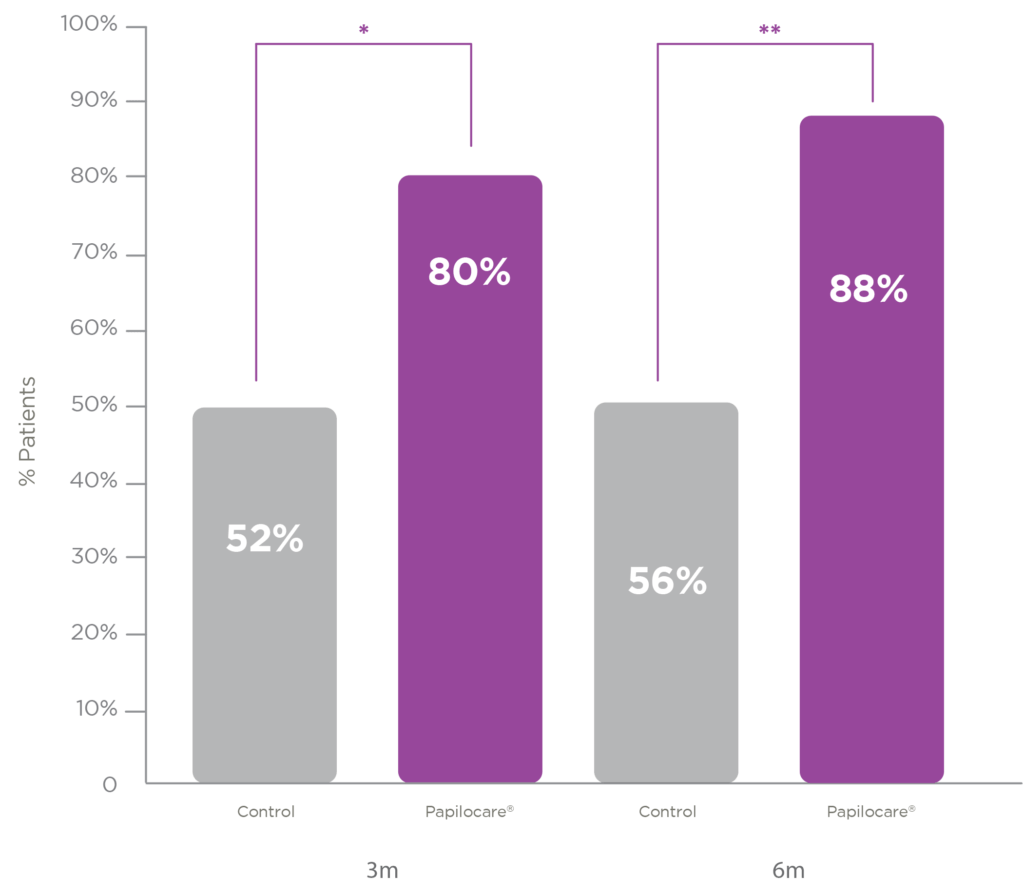 Papilocare® vaginal gel was shown to repair 
low-grade cervical lesions in 88% of  high-risk HPV-positive
patients after six months of treatment, compared to 56% of patients in the untreated control group.
Cytologic normalisation with concordant colposcopy at 6 months vs control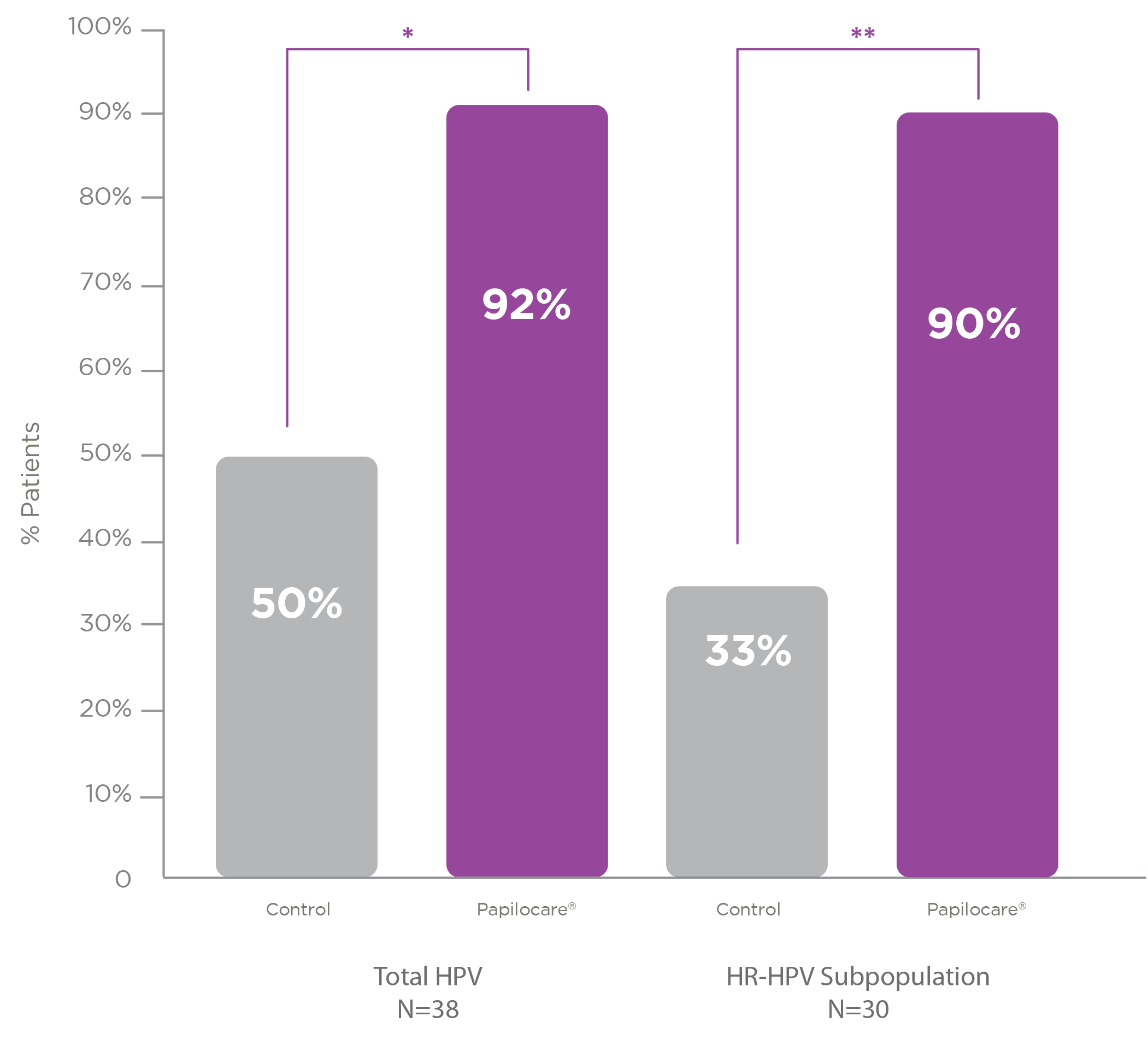 There are some situations in which HPV clearance is more difficult, such as in cases in which the infection is caused by a high-risk type of HPV, and even more so if it is in patients over the age of 40, whose immune system usually tends to be a little weaker. 
For this reason, a specific subanalysis was performed for this subpopulation of patients. It was observed that Papilocare® vaginal gel repairs low-grade lesions in 92% of patients compared to 50% in the control group and 90% of patients with high-risk HPV, versus 33% of those untreated.
HIGH-RISK HPV clearance AT 6 MONTHS vs CONTROL
High-risk HPV clearance is one of the most important treatment goals in this infection, since persistence of the virus is directly associated with the development of lesions  that can lead to cervical cancer.
Following treatment with Papilocare® vaginal gel for 6 months, 63% of the patients cleared high-risk HPV, compared to 40% in the control group.

OBSERVATIONAL, MULTICENTER, NON-COMPARATIVE AND PROSPECTIVE CLINICAL STUDY
NCT 04199260
Papilobs, a real-life observational study aimed at evaluating the effectiveness of Papilocare® vaginal gel in the normalisation of low-grade cervical lesions caused by HPV, has recently been completed. In this study, treatment with Papilocare® vaginal gel was evaluated at 6 and 12 months. Patients who after the first 6 months of treatment did not normalize the lesions and/or did not clear HPV were offered the option to continue treatment at the same dosage for a total of 12 months of treatment.
CYTOLOGIC NORMALIZATION WITH concordant colposcopy AT 6 AND 12 MONTHS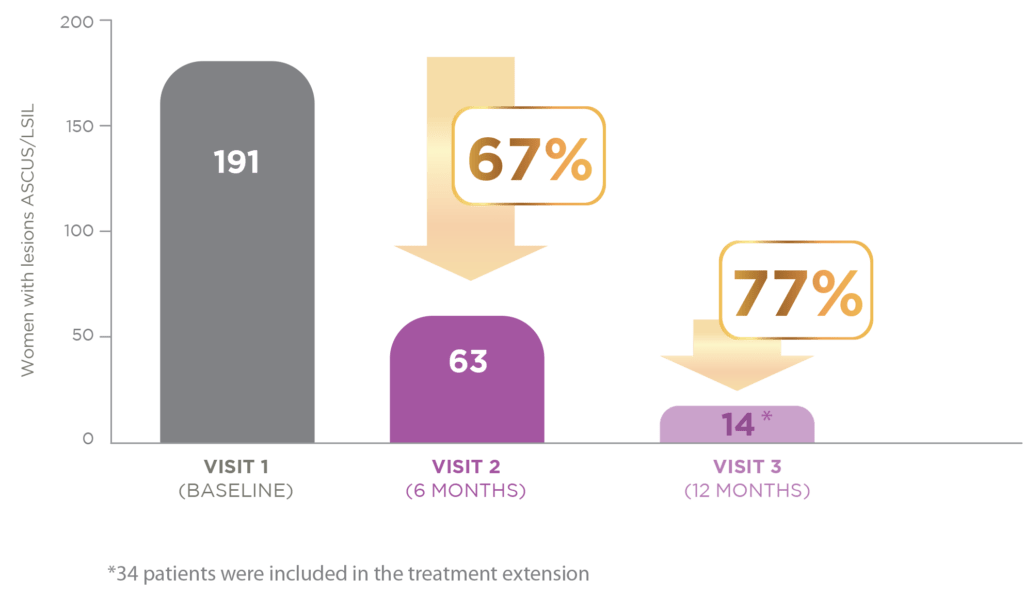 After the first six months of treatment, 128 of the 191 patients included in the study had normalized low-grade cervical lesions. At 12 months of treatment, only 14 women still had abnormal cytology. 
This represents a normalisation of lesions in 77% of the women by the end of treatment.
HPV CLEARANCE AT 6 AND 12 MONTHS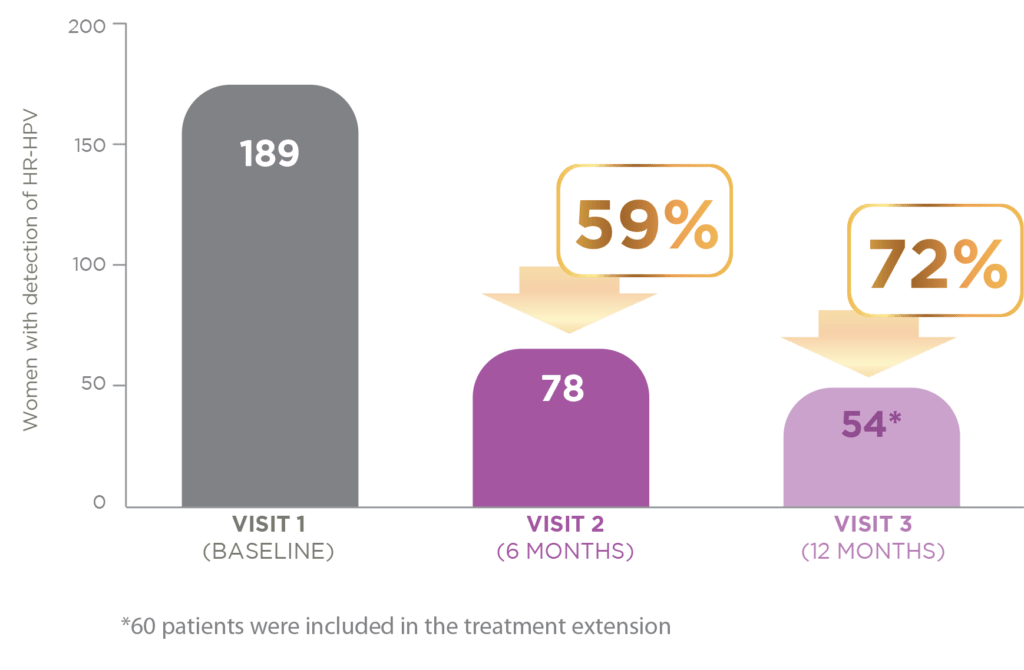 Regarding viral clearance, 111 of the 189 patients tested negative for HPV at six months. Those who did not were given the option of continuing treatment for a further six months. Only 54 patients still had a positive HPV test after extension, meaning that 72% of all patients – had cleared HPV by the end of treatment.
In addition to Procare Health's own research, four independent studies have also been conducted by public hospitals in Spain and Italy. Medical centres in Vigo, A Coruña, L'Hospitalet de Llobregat and Rome have carried out their own studies in which a weighted average of 63% of patients achieved clearance of high risk HPV, These data confirm and corroborate those obtained in the Paloma and Papilobs studies. In addition, the study carried out in Rome at the Tor Vergata Hospital has been published in the scientific journal Advanced Therapies
HIGH RISK HPV CLEARANCE AT 6 MONTHS
6 studies with 700 patients
Currently, two new clinical trials are also underway, with the intention of generating
relevant and novel scientific evidence:

 which will replicate the PALOMA trial,
but including only high-risk HPV
positive patients.

 which is being carried out
from the Hospital de la Candelaria in Tenerife. 
A randomised,  double-blind, placebo-controlled clinical
trial, the first results of which will be obtained by the end of 2022.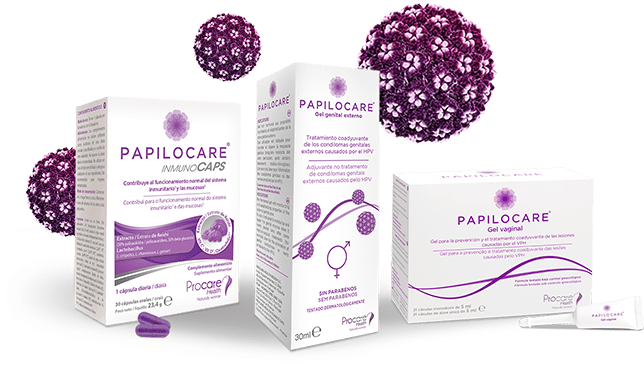 Papilocare® is a highly effective HPV treatment line, with a very high safety and tolerability profile that has been repeatedly,
demostrated in our own and independent scientific trials and studies.