Let's break the taboo together
Will I develop cancer? Will I infect my partner? Will I be able to get pregnant?
These are just a few of the questions patients ask themselves after they test positive for HPV.
Even though HPV is the world's most common sexually transmitted infection, most people know little or nothing about it.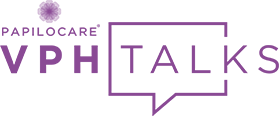 HPV Talks is a project born from Procare Health's commitment to improve women's health and wellbeing. It also aims to break the taboos about HPV, as well as any myths, rumours and  disinformation surrounding it. Because understanding the facts is the best way to empower ourselves and tackle HPV.